Couple thoughts:
I am glad PA has a professional legislature but size of house should be reduced. In theory a professional legislature makes sense for a state the size of Pennsylvania. However, the size of the house needs to be reduced. Currently in the Senate the average district handles about 250,000 residents. In the house it's 60,000. I think that number can be increased to about 100,000 residents per district in the house.
I think Reps & Senators should only make the average median income of the district they represent. I wrote about this couple years ago.  Today, the average salaries for our elected officials in PA are the 2nd highest in the nation for professional state legislators.
Clearly, we still need some reform of expenses in both chambers. The Senate is heading in the right direction. At least this past year having reduced expenses 14%. Still, the discrepancies in both chambers between the high spenders and the low spenders remain far too great. And in a lot of cases hard to justify.
This isn't a partisan problem. We have big spenders and frugal spenders on both sides of the aisle. 
Lastly, I think the Morning Call does a pretty good job pulling together this information each year. Great work by our local newspaper.
HOUSE
Each House district represents an average of 60,498 residents. Pay is an average of 78,000
Gary Day – 68,915.41 (rank 9th highest out of 203)
Ryan Mackenzie – 50,563.09 (rank 124 out of 203)
Justin Simmons – 38,016.89 (rank 176 out of 203)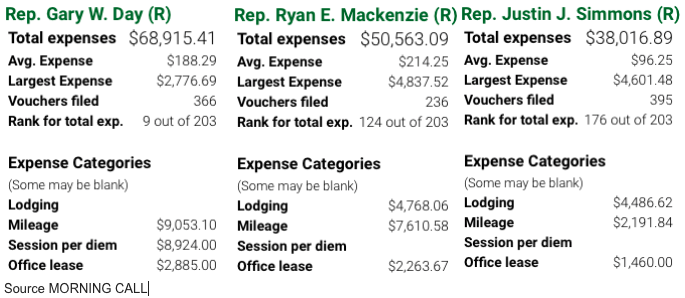 SENATE
Each state Senate district represents an average population of 254,047 residents. Pay is an average of 85,000
Looks like for Senators office lease totals are reported as yearly and for the house it's monthly. Note: Some Senators maintain multiple district offices. For example Lisa Boscola maintains 3. Bethlehem, Whitehall and Easton. Personally, I think that's a justified service to constituents since Senatorial districts are so large.