We cannot ethically continue to design roads in a way we do not give pedestrians and drivers a fighting chance to avoid tragedies.
Current speed limits in many Lehigh Valley town centers simply do not give folks a fighting chance. That was the case was in Emmaus in May. The 11 year old who lost her life wasn't the only victim. The elderly driver who has to live with this is also a victim. An investigation ruled correctly the driver was not at fault. The driver was obeying the posted speed limit.
Statistical reality caught up with us in the Borough that day. The same will happen in Macungie as it's inevitable with the current design of Main St.
In Emmaus, the 11 year girl was an unforeseen variable. Problem is 11 year olds tend to do that. No matter how well raised. So do elderly, the disabled, pets, someone who leaves a restaurant and had a glass of wine with dinner. I can go on and on but you get the point.
By nature and by design town centers are full of unpredictable variables. (that comes with density) They are complex environments. It's what makes them special places. Within them not everyone behaves in a predictable manner. This is a baseline. It is. You cannot change it. We have to accept it.
What can we change?
We can change the speed limit. We can change the road design to match the speed limit. The "inconvenience" factor relating drivers is negligible to non-existent.  Let's quantify.
IF Chestnut St. was a straight shot with no stops, driveways, crosswalks etc. and considering the "business district" is 1 mile in length.
1 mile travel time: (roughly the length of Emmaus business district)
35 MPH – 1:45 seconds mile
25 MPH – 2:24 seconds to go 1 mile
Under the best (unlikely) scenario the difference is 39 seconds of travel time. Of course the route isn't a straight shot. The road has traffic signals, crosswalks and driveways. Statistical reality is that your almost never going to have that "straight shot" through town. Therefore, accelerating to 35 mph for brief periods of time to get from one obstacle to the next won't get you somewhere 39 seconds faster. Reality is  it's just a few SECONDS quicker if anything at all. Not to mention the incredibly inefficient waste of gas/wear and tear on your automobile that comes with rapid accelerations/decelerations. And just the plain stupidity of accelerating from red light to the next.
On the flip slide there is an irrefutable and direct correlation between a 10 mph speed reduction and a reduction of both the frequency and severity of accidents. From 25 to 35 mph the death rate DOUBLES. (Triple A foundation for traffic studies) Full stop. Again, from 25 to 35 mph the death rate DOUBLES.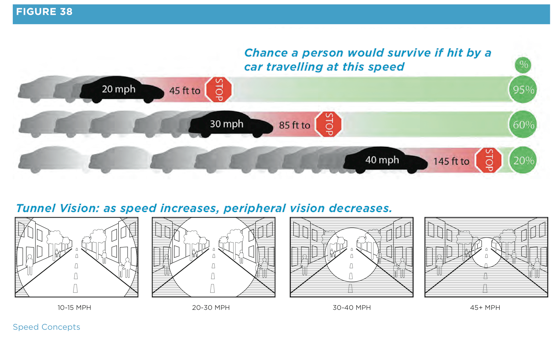 Give everyone a fighting chance.
First, it's my opinion you take the "convenience" of drivers where in measurable terms equals mere seconds of drive time completely out of the equation. It is an asinine argument. It's also an inflated argument where perception isn't reality. But let's say it was. To think seconds of your time is worth putting yourself and everyone around you at higher risk is incredibly selfish and tragic.
Reducing the speed limit on Main St. Macungie (35 to 25) Chestnut street in Emmaus (35 to 25) and Hamilton Boulevard in Lower Macungie (from 40-45 to a consistent 35mph) needs to happen now. Followed by aggressive traffic calming strategies so the physical design matches the posted speeds.
I know for a fact Macungie Borough, Emmaus Borough and Lower Macungie Township have all requested over the years lower speed limits on Chestnut, Main St. and the Boulevard. The problem each time from what I understand is Penndot. Somewhere there is a disconnect. Penndots own smart transpiration guidebook outlines a 25 mph desired operating speed on a "Main Street". In Lower Mac the catalyst for a request was actually Hamilton Crossings shopping center. Clearly,the developers understand slower speeds are good for business and the economy of the upstart Boulevard.
Common sense dictates lowering the speed limits. Standards reinforce it. Local municipalities who know the roads best have requested it. Residents have demanded it. So what is the issue here? When we set operating speed too high we have a statistical inevitable outcome of tragedy. 
What we know:
Slower speeds are safer for everyone
The loss of travel time is negligible to non-existent
Slower speeds in town centers actually ease congestion
Slower speed is better for downtown businesses
You can also sum up this entire argument here. ELIMINATE STROADS! As deadly as a STRAOD designed too fast through a Borough is, a STROAD designed with highway geometry seemingly for 55+ mph but posted artificially at 45mph or containing traffic signals is just as dangerous.
Very few roads should be posted between 35mph and 55mph. That is the tragedy zone. Design it as a road (get people from A-B) or make it a street (multi modal value capture) But please, STOP BUILDING STROADS.