I had to find a minute to write about this quick today. Northampton County Commissioners are considering an amendment that would use gaming money the county gets from the Sands to put another $750,000 into the county's farmland preservation program and $400,000 into preserving open space and environmentally sensitive lands.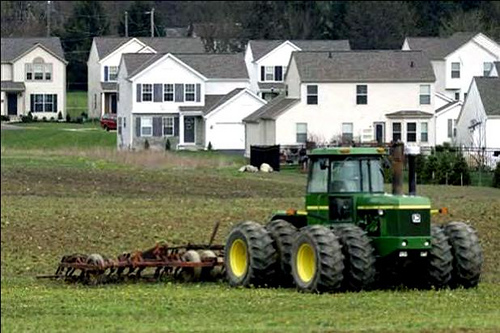 It looks like the board has the votes to pass this. Great news. UPDATE: 10:00pm Thur – The Amendment successfully passed.
But another part of this story is the Commissioner who dissented and a statement he made that is one of the most ridiculous I have ever heard a public official mutter.
"As we buy up farmland and take it out as a development option, we're denying people a dream in suburbia." – Hayden Phillips Northampton County Council
As if by preserving some farmland we are somehow going to take single family homes off the market en masse. Or somehow force people to move into densely packed cities. Anyone who drives around any suburban neighborhood in the Valley can plainly see that this isn't the case by the number of units available in Surburbia. For those who prefer a suburban lifestyle it is by far and away the most abundant choice in the Valley. I also instinctively dislike anyone trying to force a narrowly defined worldview on me. I live in suburbia and like it but not everyone does. I have no right to define the American Dream.
Everybody has the fundamental right to live wherever they choose. What they don't have is the right to have that choice be subsidized by others. Single family home subdivisions cost more in services than revenue generated. Always. Commercial development is how we fix that problem. Farmland however, is the most effective way. It's about balancing revenue & liabilities. That is the most fundamental accounting task local governments are charged with. Balanced budgets. 
Farmland generates no crime. No traffic. Increases quality of life. (matter of opinion) Increases property values. (matter of fact) Doesn't add new kids into school districts. Definite and clear long term ROI. ect. Even with Act 4 programs Farmland generates far more in property tax revenue than liabilities in services/infrastructure.
Letting opportunities pass to aggressively invest in preservation now will certainly lead to higher taxes down the road. Smart growth is not just about consumer demand for more livable communities, and not just about supporting congestion-mitigating transportation options such as complete streets it's also about seeking growth that pays for itself and isn't dependent on ether *constant growth (where you eventually run out of land) or direct/indirect subsidies.
Bottom line is farmland preservation doesn't somehow magically force people to live in cities. In fact it achieves the opposite. By creating a balanced mix of residential, commercial (preferably together as traditional neighborhoods) and most importantly farmland we keep the suburbs affordable. This enables those who choose that lifestyle (as I do) to be able to afford it.