#DoTheMath – Couple of takeaways from this:
1. We have a potential dark store issue in Lower Macungie. Since.
"It's an established part of the big-box retail model that the boxes themselves be custom-built, cheaply constructed, and disposable. If retailers decide that they need a bigger space, it's cheaper for them to leave the old one behind and build a new one."
This is happening in Lower Mac right now with Weis. They are currently in the process of abandoning their current store to build a new one – across the street. This opens the possibility for Weis to argue the "dark store" method for calculating tax assessment.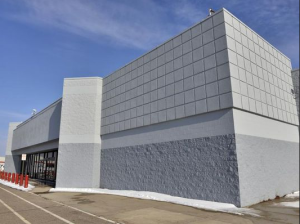 2. Even without assessment reductions box retail isn't a fiscal winner for local communities. The reduction strategies happening in some states just make it worse.
When eight communities in central Ohio looked at the fiscal impacts of big-box retail, they found that the stores actually demanded more public services than they generated in revenue, and created a drain on municipal budgets to the tune of a net annual loss of $0.44 per square foot, or about $80,000 for a typical Walmart supercenter. 
Mark my words, our increasingly boxy/strippy Hamilton Corridor will be the driver for local police and a massive unavoidable tax increase: 
"Higher demand for police departments is one example. In Port Richey, Fla., nearly half of the town's crime emanates from the area Walmart. "The taxes that come from Walmart are not even enough to cover two police officers' salaries," Police Chief Robert Lovering told Vice."
It's happening in Lower Mac today.
3. With Hamilton Crossings we are beginning from an even bigger hole. Throughout the HC discussion it was parroted that the windfall was worth the tax gimmick. The narrative was: "There is nothing now, when something is built we can tax it". Problem is what we approved costs us much more then what's there now – fallow open space. And the new tax revenue won't cover the long term liabilities. Our problem is the fatally flawed short term way we look at municipal finances.
"Cities and towns continue to buy into myths sold to them by the mega-retailers themselves, that big-box stores spark economic development. In service of this myth, local and state governments across the country have granted at least $2.6 billion in subsidies to just six large retailers, including $160 million to Walmart and $138 million to Lowe's, according toanother study from Good Jobs First.  That's without factoring in the cost of services, which as Marquette, Mich., saw, can pile up"
We got to start thinking beyond the windfall and look at lifecycle sustainability. That is: Lifecycle costs (liabilities) vs. revenue (tax base). I am not arguing for a valuable corridor to be vacant. This isn't about NIMBY. My argument is a financial one. We need to build better. Smarter. Patterns that create positive value. But since at least with Hamilton Crossings that ship has sailed….
4. Living in reality. What's done is done.  Can't change the fact 3 members of the current BOC opted to hand out a 20 year tax subsidy. So, moving forward our strategy has to focus on repair and triage. We accomplish that with balance. First by preserving farmland and open space concentrating on places where expensive infrastructure would have to be built and maintained by taxpayers to support greenfield growth.
Second, we encourage better/smarter growth in patterns that creates higher value in locations where infrastructure exists. We get there by fixing our terribly archaic and restrictive zoning code. By instituting aspects of a form based code we allow and even incentivize more "Main Street" oriented walkable neighborhood mixed use devleopment on Hamilton Boulevard.
The land development alternative – What does that mean? Lower Mac is working on a vision.  Here is an outline: Lower Mac's Hamilton Corridor vision study. If we adopt and follow this plan we will induce more high value growth on Hamilton Boulevard. This is essential to balance the low value. More positive growth will help balance the net negative financial development.
"Locally owned retailers provide value to a community in many ways, but one of them is to the municipal accounting books. In a study that found that big-box retail generates a net deficit for taxpayers in a Massachusetts town, the researchers also discovered that specialty retail, like Main Street businesses, are the ones with a positive impact on public coffers, generating more revenue than they require to service."
One thing to watch is avoiding falling into the pitfalls of "smart growth light" like we have in the past. #WordsHaveMeanings.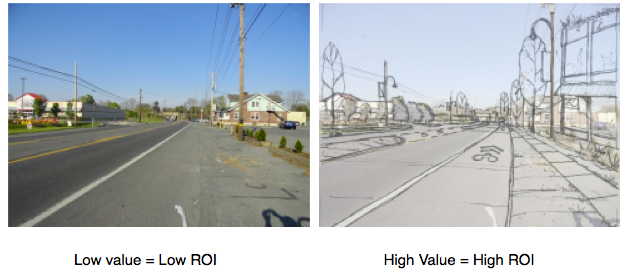 The taxing alternative – Shift the burden off residents and onto warehouses and box stores.