Last night the zoning hearing board rejected a dimensional variance that would have added 15 ft onto a tower in front of the proposed movie tavern. Movie tavern officials claimed this is a deal breaker. It remains to be seen if that is the case. It's important to note that the Zoning Hearing Board is a quasi judicial board entity, seperate from the Board of Commissioners. Though I attended the hearing I did not get a vote.
My thoughts are this. Generally, I think our zoning hearing board gives away major variances to large scale developers much too easily. They did this in the case of Hamilton Crossings. And in the past I've spoken out opposing such variances both in person and in the form of letters.
However, this is not one I would have personally dug my heels in on. This is after having visited a similar Movie Tavern in Exton PA. I wrote this post a few months ago and included some photographs and video I took. Also after having seen the site line diagrams presented last night that demonstrated clearly that residents over 500 ft away from the tower in Shepherd Hills would not even see it from their backyards.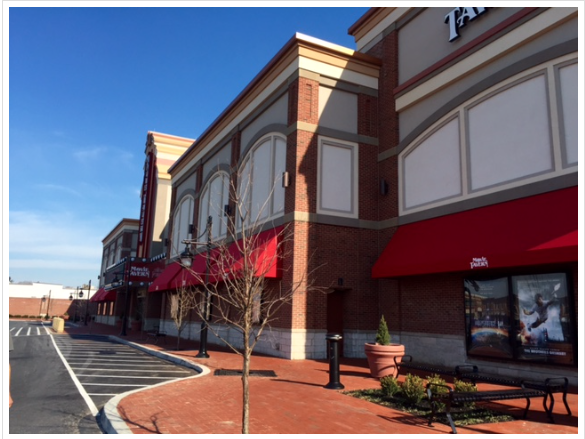 So at this point I'm nervous that if this kills the theater we will get another anchor that could very well be much more impactful. Remember, this plan is grandfathered originally submitted almost a decade ago. So the allowed uses are vested. Meaning the theater could be replaced with a big box retailer. That would mean more traffic, more truck deliveries and more parking issues. And likely a much less attractive building design. (The movie tavern really did work with us last few months agreeing to build a large plaza in front of the building with enhanced landscaping and buffers.)
The theater is a good use for this site. I'm not sure what could replace it would be.  I certainly do not want to see anymore strip malls, big box retailers or warehouses. That leaves entertainment uses which is something our recent PCTI study said we are deficient in here in Lower Mac. Entertainment uses typically have much lower impacts. So a win/win for the township.
Now we wait and see. Was this a bluff? Will the tavern walk away? If so, then we need to be concerned with what replaces it.
Bottom line for me is yes, I think our zoners often give away variances much to easily on large projects. And I'm happy to see them actually challenge a request. But this is not one I would have taken a gamble on. The risk/reward didn't make sense in this case. The reason is because the Movie Tavern is an excellent low impact fit. Now, if we lose it we could end up with something much worse. And will not have any power to stop it.  We often have to play hands we are dealt and put on strategic hats. This was the case here. The Movie Tavern already addressed a number of township concerns including completely changing the color of the back of the building as to reduce glare for neighbors. They went above and beyond. Another user might not be willing to voluntarily do all the things Movie Tavern agreed to do. So at this time the tower wasn't a fight I would have picked over 15 additional feet. Residents of Shepherd Hills will still end up having to look at the back of a very large building. But the next user might not be so community conscientious as the Movie Tavern was.