A new Movie Tavern is being proposed as part of a small shopping center (small compared to Hamilton Crossings that is) on the Boulevard. The location is behind the Texas Roadhouse & Hamilton Animal Care.
Few key points:
1.) This area is zoned commercial. However, we're forced to consider this proposal under a very old ordinance. That's unfortunate since standards have gotten better over the years. I will say that the developer has been working with us to ensure better quality. The township appreciates that. A partnership is important. We set a new bar with Hamilton Crossings. Personally, I hope that over time we raise that bar even higher.
2.) According to multiple adopted comprehensive plans this is the appropriate location for commercial development in the township. Infrastructure already exists along the corridor. Major investments in the bypass were already made. Smart growth is building where public investments have already been made. While we should (and we are) working to preserve farmland and open space aggressively elsewhere in the township, this is the corridor where we must capture value. I think we can do a better job, but this is another step in the right direction in a more positive progression.
These are just a few of the latest moves we've made towards land preservation in the township:
–Turning $200,000 into $800,000 for farmland preservation
–Lower Macungie Preserves 55 acre farm
3.) We are early in the land development process. The developers were in front of the planning commission for the first time this past Tuesday. Long way to go and plenty of opportunity for public comment. One outstanding issue is protection of the stately and historic sycamore trees along Hamilton.
Whenever we get an anchor for a new development I take little field trips to check out similar design. In this case we have the same Movie Tavern prototype  nearby in Exton PA. Main St. Exton is an excellent neighborhood commercial center.  Movie Tavern one of it's Main Anchors. Here are some photos I snapped:
This design was created specifically for the Exton Shopping center. Movie Tavern had to make a new design to comply with West Whiteland Township's very strict design guidelines. It was then copied in Flourtown, PA. And now is proposed here in Lower Mac. It's a much better design in my opinion than the boilerplate Movie Tavern.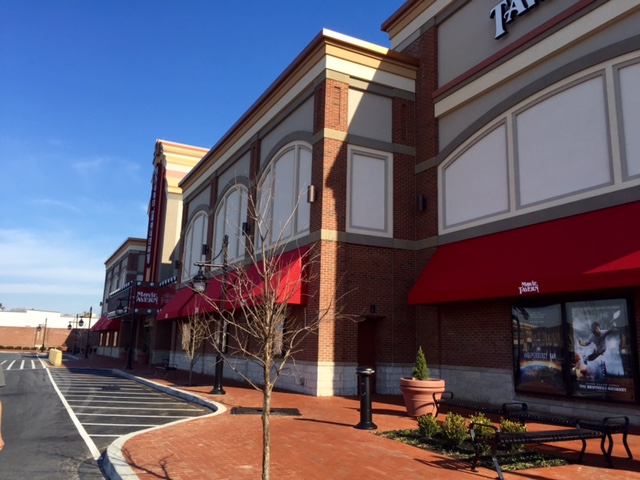 Brick patio and public plaza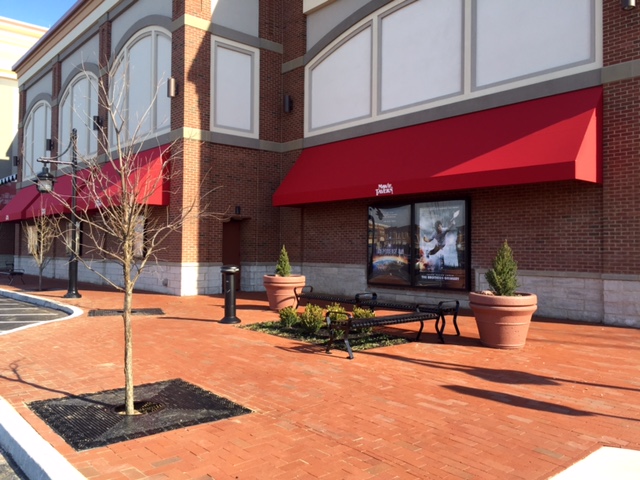 Streetscaping elements throughout the shopping center are part of a coordinated design.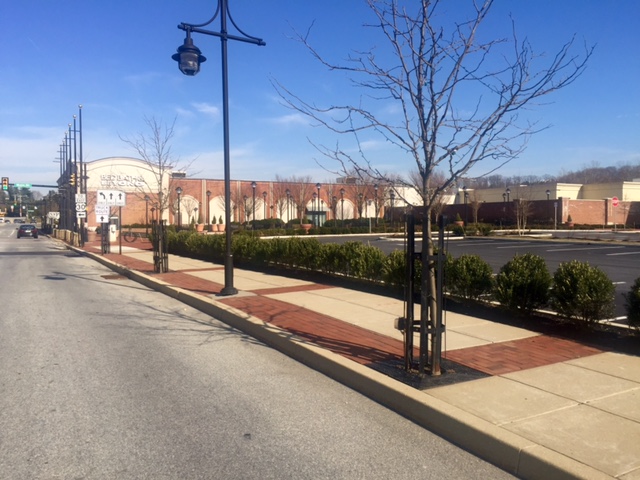 The Movie Tavern in Exton is a "3-sided" building. This is a good design characters. No walls visible from the public areas are blank.