FYI –  In these previews I may indicate thoughts on an issue, but it in no way means my mind is set. During a critical hearing for the Jaindl issue, a Commissioner spoke before public comment outlining he was voting to move forward the project regardless of what people said during public comment. That was wrong. Public debate was circumvented when the Commissioner indicated his mind was made up.
My hope is by blogging I open the door for conversations before issues are settled. One of my biggest issues with the Jaindl debacle was folks didn't truly understand what was happening until it was "too late". This is one mechanism to avoid that. I hope people find it useful. 
Hearings:
Farr Tract Rezoning Request: This property located at Lower Macungie Rd. and Cedar Crest Rd. is currently zoned S Suburban. The applicant is seeking a text amendment to allow restricted over 55 as a condition. The developers have submitted a sketch plan that calls for 142 homes on 54 acres at the northwest corner of Cedar Crest and Lower Macungie Road.
Both the Planning and Zoning Committee (PZ) and Planning Commission (see letter below) have recommended rejecting this request. I sit on the PZ. My views reflect that of the planning commission on this issue.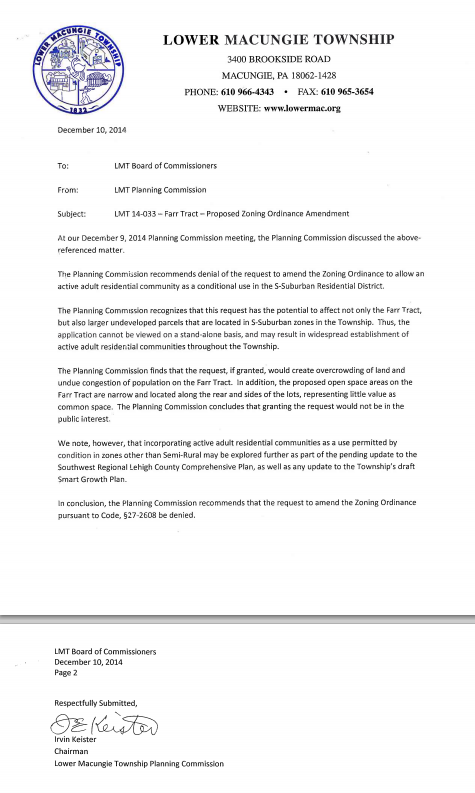 Communication
Resident Donald Richards writes asking for an ordinance to control distribution of free newspapers like the merchandiser. This is something we've talked about recently. The problem is when people are away these papers stack up as a tell-tale sign the house is empty. Also in the winter the papers often get buried under snow… then when you go through with a blower it jams up the intake. These are just a couple of examples on why we should take a look at this issue see what we can do. Maybe evaluate what other communities do.
Dept. Matters
Approving the Southwestern Lehigh County Plan Inter-municipal agreement. I support this. The plan is a non-binding document created 7 years ago in a joint effort by Emmaus, Alburtis, Macungie, Upper Milford & Lower Macungie.
This original Plan was funded by grants. The Comprehensive Plan is intended to establish overall policies for the development and conservation of the Southwestern Lehigh County Region over the next 15 years. This Plan is not by itself a regulation, but is intended to provide the policy direction for changes to the municipalities' development regulations.
Recently there has been consensus to update the plan. This was largely necessitated because Lower Macungie has significantly deviated from the plan.  The biggest example of course was the Jaindl development debacle and rezoning of 700 acres of ag protected land to Industrial, Strip Commercial and Residential.
Manager Report:
The manager will be requesting moving forward Quarry Park Synthetic Field Turf Project and NPDES permitting. I voted against inserting this project into the budget and have been vocal in opposition. More information here. I think it's important to to invest in our parks but I don't believe this is the most cost effective way to do it.