3 Democrat challengers announced today for at large Commissioner seats in Lehigh County via what appears to be a flyer produced by a PAC called Citizens for a better Lehigh County. The website at this point simply says "coming soon". With the exception of Hillary Smith I don't know much about them at all but I am looking forward to learning.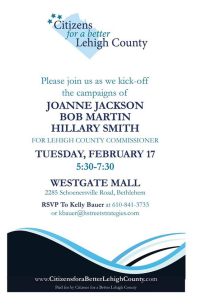 Hillary is a Lower Mac resident and very active in Democratic politics. She currently serves as Vice Chair of the LCDC. But she has in the past supported bi-partisan slates in local races. Personally, I tend to support Republicans but I always keep an open mind. Bi-partisanship is something I appreciate. And a quality Hillary exhibits. Elections should be about the quality of the candidate, not just the letter behind someones name. I am interested to learn about her platform. I know Hillary to be a good person and wish her the best of luck. Running for an at-large position is a huge undertaking if done right. To do it seriously takes a major time commitment. The rest of the slate I look forward to learning more about.
The Incumbents: Lisa Sheller Fmr. Chair, Vic Mazziotti, Amanda Holt and Brad Osborne Current Chair. Of them I have heard Lisa Sheller will not be running for re-election. This is not confirmed. *Update confirmed via Express times Sheller is out. 
Amanda Holt was appointed last year to fill a vacancy left by Scott Ott when he moved to Texas. She was one of 15 who applied. As an activist before her appointment Holt legally challenged the way redistricting was occurring in PA. She felt as though there were too many municipal and county splits as a result of gerrymandering. According to the letter of the law this was unconstitutional. Her work on the issue is really interesting to read about. End of the day courts agreed with her assessment and forced the legislature to re-do the maps. When Holt was appointed she said she wouldn't run when her term was up but didn't totally rule it out. *updated Amanda Holt announced she is running.
Vic Mazziotti ran together with the very conservative block of Sheller and Ott. Ott has since moved to Texas. Schware very narrowly defeated challenger Wes Barrett last year. Have heard from couple people he may be 1 term. *Updated Vic Mazziotti has announced he is running. *Correction: I had indicated Schware ran with the so called reform team. That is incorrect. Schware was appointed to fill the vacancy left by Glenn Eckhart in 2012. Schware does however vote often with the block on major issues. 
Osborne was recently elected Chair. His second go around in the leadership position. He has not officially announced his intention for re-election but I imagine he will. If so I will support him. Brad is consistently one of the most informed members of the board and the voice of reason. For example, after much deliberation and reflection he correctly voted against the Hamilton Crossings TIF. This was the right decision then but even more clearly so in hind-site. Because of his vote Lehigh County will receive 100% of the incremental tax increases instead of giving 50% away. I know Brad struggled with the decision. But that struggle reflects how he thinks through an issue from all sides. Too often politicians locally come out the gate with an inflexible position and refuse to reconsider. Brad isn't that kind of ideologue. Prior to serving as County Commissioner Brad served 6 years in South Whitehall Township. *update Osborne is officially in. 
Rest of the field: It's likely former Commissioner Chair Dean Browning might take another stab. I like Browning. He's another voice of reason. Very intelligent. Great guy. But is he still viable after two unsuccessful races? Does he have enough political capital left in the tank for another run? If he runs I'd consider supporting Dean, but if the field gets crowded on the Republican side he needs to be realistic about his chances. During his last two campaigns he was hammered pretty hard in primaries. Some of the criticism fair but most was not.
Marty Nothstein announced he's running as a Repbulican. Yes, for those of us in western Lehigh Valley that's EHS grad and Olympic Gold Medalist Nothstein. At this point he's a neat and interesting name. But we know little about his politics. Looking forward to learning more.